Their Finest Hour
Starts: 10:00am Ends: 3:00pm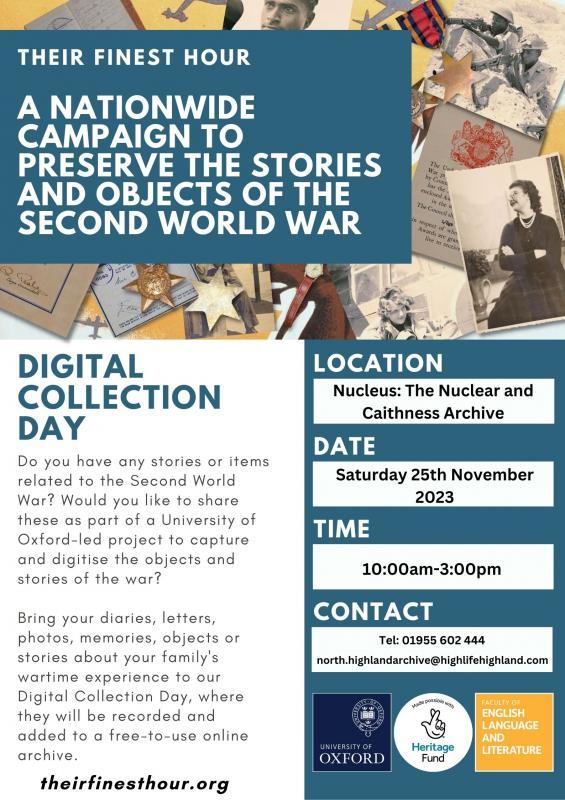 Many of us have war-related stories and objects that have been passed down through families. Their Finest Hour is a University of Oxford project that aims to collect and digitally archive the everyday stories and objects of the Second World War that have been passed down from generation to generation. Gathering sessions are being held across the UK and Nucleus is delighted to be hosting a session on Saturday 25th November 2023.

The event will feature displays of archive collections, alongside tea, coffee and biscuits. The event is open to everyone, not only those contributing to the project.

Anyone who has an object, a document, or a story relating to the 1939-1945 war years is invited to come along to Nucleus: The Nuclear and Caithness Archives, between 10am and 3pm on 25th November where their items will be photographed, and associated stories written down for inclusion in a new purpose-built online archive. Any original items relating to local people and places can also be deposited with the Caithness Archive for long-term safekeeping if desired and we would be more than happy to discuss this.

If you have stories or objects which might be relevant, please do come along and help us record those memories before they're lost forever.
Location: Nucleus: The Nuclear and Caithness Archives, Airport Industrial Estate, Wick, KW1 4QS
Price: Free
Web Link: www.highlifehighland.com/nucleus-nuclear-caithness-archives/
E-Mail: north.highlandarchive@highlifehighland.com
Phone: 01955602444